Software development outsourcing has become a prevalent strategy in the modern, highly competitive business landscape. Despite the global economic downturn caused by the pandemic, Vietnam has emerged as a nation with a rapidly growing technology sector, presenting excellent prospects for Western companies seeking to rebound in the post-COVID era.
For those considering the recruitment of developers or outsourcing software development in Vietnam, this article will provide insights into the significant figures associated with hiring Vietnamese software developers. Furthermore, we will delve into the potential of the country's IT industry.
Let's get started!
Vietnam's rankings in global software outsourcing reports are as follows:
According to Kearney's Global Service Location Index 2021, Vietnam secured the 6th position among the top countries recognized for their exceptional outsourcing services and the emergence of digital hubs.

The Tholons Services Globalization Index 2020 ranked Vietnam at #9 in the world's Top 50 Digital Nations, marking a rise of four places from 2019.


As stated in the 2022 Global Software Outsourcing Trends and Rates Guide by Accelerance, Vietnam, along with the Philippines, remains at the forefront as leading software outsourcing destinations in Asia. This is attributed to their consolidated talent pools, which are well-equipped to meet the expectations of Western businesses.
Vietnam possesses abundant and diverse IT human resources, as evidenced by the following information:
According to TopDev's 2021 IT market report, Vietnam has a substantial number of developers, totaling 430,000 as of Q1/2021. Additionally, the country sees an annual influx of over 55,000 IT students graduating from more than 153 IT institutions. This contributes to the availability of a large pool of skilled professionals in the IT sector.
Furthermore, there is an advantage in Vietnam's outsourcing industry due to the presence of Vietnamese expatriates who had previously worked as programmers and engineers in Western countries. These individuals have now returned to Vietnam and serve as facilitators, assisting in overcoming cultural and language barriers when outsourcing with Vietnamese developers. Their expertise and understanding of both Western business practices and Vietnamese culture enhance the collaboration between international companies and local developers.
These combined resources, including the substantial number of developers, the continuous inflow of IT graduates, and the presence of experienced Vietnamese expatriates, contribute to Vietnam's potential as a software outsourcing partner within the region. The country offers a large and capable workforce to cater to the demands of the IT-related industries.
Vietnam's IT market continues to thrive as a potential hotspot for offshore software development, even in the midst of the COVID-19 pandemic.
According to Statista, the total revenue of Vietnam's software industry reached $5.44 billion in 2020, showing a significant increase of nearly $500 million compared to the previous year. This figure has been steadily rising from 2016 to 2020. Among various options for offshore outsourcing, Vietnam has established itself as a dynamic and productive environment for software development in the Asia-Pacific region. Many companies and organizations from the United States, Europe, Australia, and Singapore now consider Vietnam as a strategic alternative.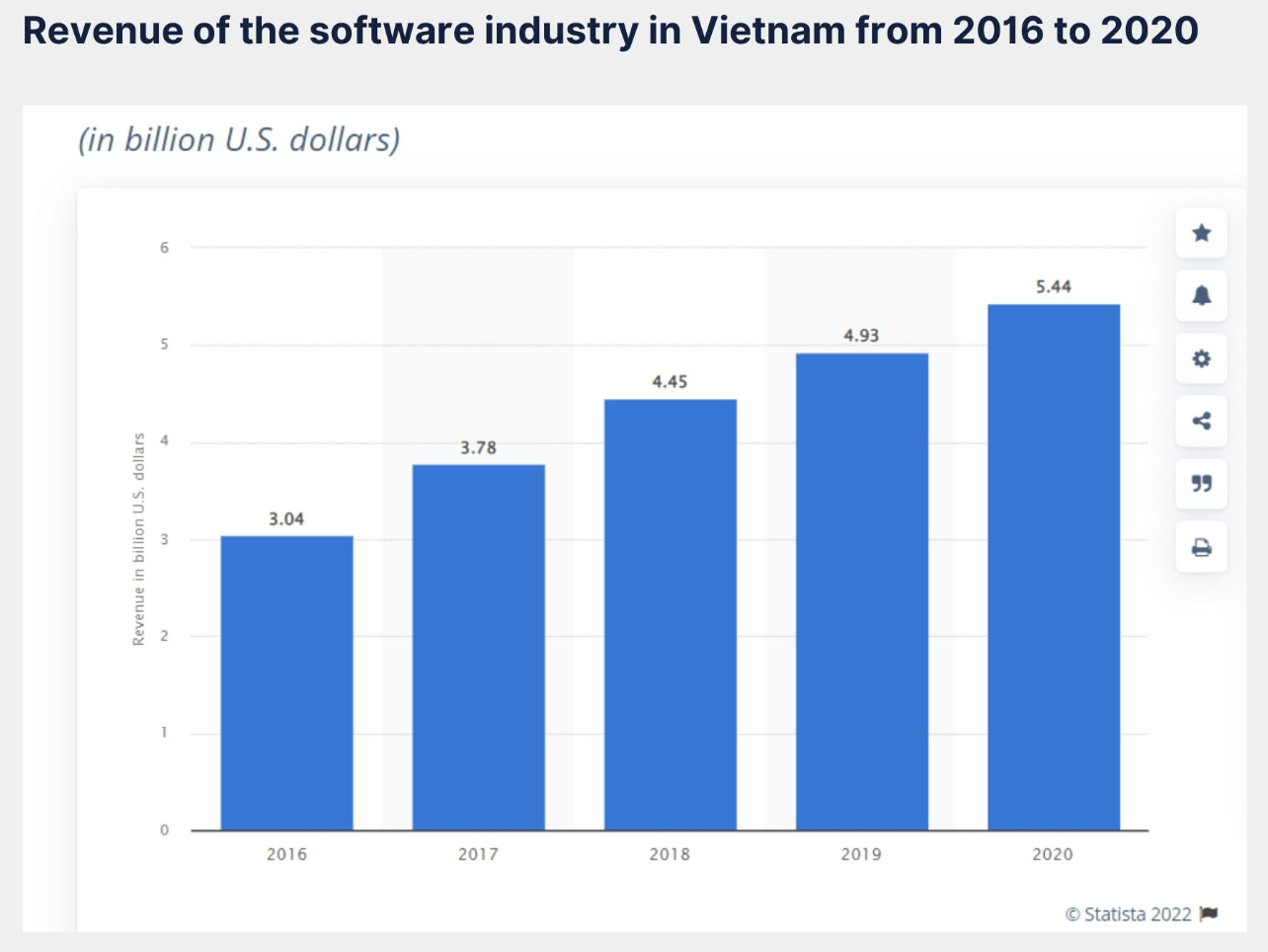 Despite the challenges posed by the pandemic, Vietnam's outsourcing strengths remain intact. The Forbes Technology Council states that Vietnam exemplifies societal resilience and technological fortitude. In the Vietnam IT Market Report 2021 by TopDev, Vietnam was listed as one of the top five countries with the best responses to COVID-19 as of March 2021. Thanks to the swift and effective actions taken by the government, most tech companies in Vietnam have resumed normal operations relatively quickly.
Hanoi and Ho Chi Minh City consistently rank among the top outsourcing destinations in the Tholons indexes for 2021. Da Nang, located in the central region of Vietnam, has also emerged as an ideal and promising hub for ICT (Information and Communication Technology) in general.
In conclusion, with the increasing demand for innovative software solutions, hiring software developers can be a challenge for organizations aiming to expedite product delivery to the market. Vietnam has become an attractive and reliable hotspot for hiring offshore software developers. Taking advantage of Vietnam's geographical location, vast talent pool, and cost-effective rates, businesses can swiftly expand their development teams and create effective solutions.
(This article aims to provide you with essential insights into the key figures to consider when hiring developers in Vietnam, increasing your chances of success in your software development endeavors.
And if you are struggling with how to start or develop your ideas, we, as your trusted outsourcing partner, are here to support and give your free consultations. Feel free to check out our portfolio and please don't hesitate to drop us a line).