When companies open job opportunities, they sometimes forget that the recruitment process goes both ways. It is not just a simple routine to follow: writing a job description, posting an ad, waiting for the resume to arrive, interviewing and hiring. There's always more than a process of "picking the best candidates".
What if candidates don't precisely describe their expertise? How can you be sure that the newcomer will not be an outcast from scratch? And more importantly, how can you optimize your recruitment process to guarantee that you hire the right ones for the vacancy? Read on to find out.
Why Effective Recruitment Matters?
It is fairly obvious that recruiting effectively is worth it. For instance:
The right people in the right places can bolster productivity and guarantee long-term commitment.

An optimized process will be time-saving and economical
As a software outsourcing company, we've tested and applied a plethora of recruitment techniques, and now we are about to share the ones that help us to recruit the best and most suitable developers for our clients.
Now, just take the interview as the middle point of our timeline and see what you should do before, during and after this point to get your hiring decision right.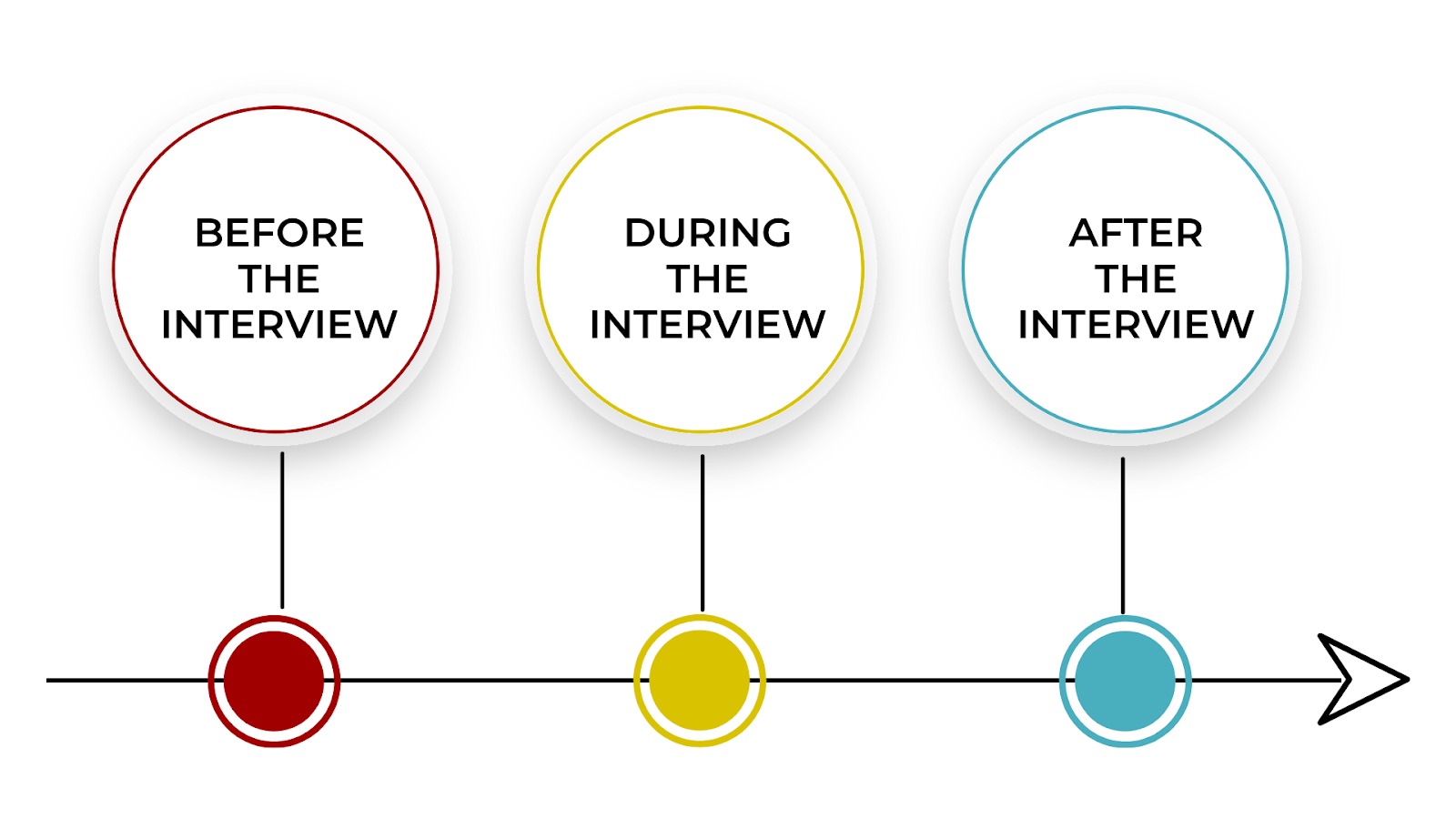 Without any further ado, let's dive right in!
Before the Interview
Decide on Your Recruitment Needs
Talk to your HR Department about the vacancy to have a complete, clear and accurate job description (if you already have one, it is better to review and update before sending it out), together with the type of contract that you want to offer. Those will enable your applicants to make the right decision before applying. Moreover, the department will provide you with advice about the recruitment procedure and support you during the process.
If you are in charge of hiring members for another team, talk to its leader and members to have a deeper insight into what their expectations and requirements are to the future member.
"Understand" Your Candidates
It is important for you to carefully read their resumes and other related qualifications to see which company they used to work for, what their strengths and weaknesses are, and what experience that they possess suits your vacancy. Additionally, taking their expectations when applying into consideration can help you find out whether or not they can be a part of your company.
During the Interview
Don't Let Your First Impressions Guide You
There have been a lot of readings about how important the first impressions are, especially during a few minutes at the beginning of the interview. However, relying too much on them could not help you to create realistic pictures of your candidates, leading you to wrong evaluations about them. Instead, techniques such as IQ-EQ tests, structured interviews, etc would be more helpful and more accurate tools in terms of predicting candidates' ability and on-job performance. You can choose one of those mentioned above as long as they suit your interview process to see whether they yield a better result.
Follow A Structured Interview
It would be a more effective interview if you have a list of questions and topics you want to discuss in detail and the order of which will be asked first, and which will go the second. In addition to that, some real business cases should be included to test how much they know about the current changes in the IT industry and how they will deal with those cases. That is the reason why getting everything ready beforehand as mentioned before makes your interviews more likely to be successfully conducted.
Interviews Are a Two-way Street
You ask questions and you will also have to answer some of your candidates'. So just encourage them to ask questions because some are confident to pose questions about all sorts of things. while the shier ones will need your encouragement.
Ask yourself "What makes my company great? How do my teams function? Why are our products and services better than other competitors'? What is our company's mission?" before answering any questions from your candidates. It's your chance to give them reasons to join your team so be supportive, open and honest about your answers.
Test Assignments When Hiring Developers
It is crucial to give your developers test assignments. However, bear in mind that they should be to-the-point and on the short side. In other worlds, assignments that are too long and complicated could deter your developers from going ahead, even the most enthusiastic ones. So make sure your assignments will take candidates no more than 4 hours to complete.
After the Interview and Test Assignments
Give Detailed Feedback on Candidates' Performance
This would be ideally within no more than 3 days after the interview. Try your best to give them your review, advice, tips and evaluation at your earliest convenience, even if they are not going to be your employees after this recruitment process. In this case, you would build a positive employer brand for your company.
Make Hiring Decision As Fast As You Can
In this day and age, it is competitive seeking highly-skilled tech talents because of a huge demand. Seasoned developers, needless to say, won't stay unemployed for long. Based on our experience, a decision-making process which lasts for only a week is sometimes enough to lose a good candidate. So, don't hesitate to get the developers on board if you find them suitable for your needs.
Final Thought
Recruiting established and suitable tech talents who will thrive at your company is absolutely a challenging task. Mentioned above are some tips which we believe can help you optimize your recruitment process.
If it is difficult for your company to locally hire developers with needed skill-sets, and you want the process to be time-saving and economical, you can consider cooperating with IT outsourcing companies in other regions or countries, which provide a variety of services pertaining to IT development. They boast developers at any level, from freshmen to seniors, you thereby can have access to an unlimited pool of talents, allowing the recruitment process to happen more effectively. Just bear in mind that you need to be accurate and clear about your requirements and expectations.